Frequently asked questions
The Participant Engagement and Cancer Genome Sequencing (PE-CGS) Network is a part of the Cancer Moonshot Initiative, a National Cancer Institute (NCI) effort to progress cancer research. The PE-CGS network aims to promote and support direct engagement of diverse and underrepresented cancer patients and post-treatment cancer survivors as participants in cancer research with the goal of addressing research gaps about the molecular changes in cancer.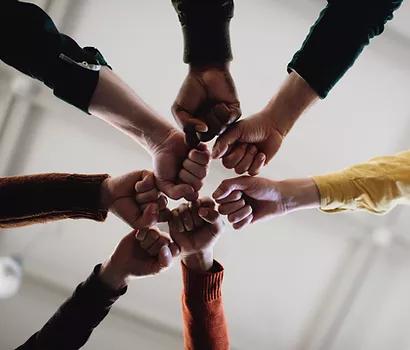 Participant engagement is an ongoing, bi-directional and mutually beneficial interaction between participants, their communities, and researchers, where participants are included as an integral part of all phases of the research process: including the identification of research priorities and the design, conduct, and uptake of research (adapted from Fergusson et al, 2018).
Important principles of participant engagement include:
Reciprocal Relationships- roles and decision-making authority of all research partners, including the patient and other stakeholder partners, should be defined collaboratively and clearly stated.
Co-Learning- help patients or other stakeholder partners understand the research process; likewise, the research team should learn about patient-centeredness and patient/other stakeholder engagement, and should incorporate patient and other stakeholder partners into the research process.
Partnerships- time and contributions of patient and other stakeholder partners should be valued and demonstrated in fair financial compensation, as well as in reasonable and thoughtful requests for time commitment by patient and other stakeholder partners. When projects include priority populations, the research team should be committed to diversity across all project activities and demonstrate cultural competency, including disability accommodations, when appropriate.
Transparency, Honesty, and Trust- major decisions should be made inclusively and information shared readily with all research partners. Patients, other stakeholders, and researchers should be committed to open and honest communication with one another.
Genome sequencing allows researchers to determine the exact order of bases in the DNA of an organism or cell. This technology is used in cancer genome sequencing to look for changes, or mutations, in the DNA. Mutations may affect the development and growth of cancer, including how it responds to certain drugs.
The study of cancer genomes can reveal abnormalities in genes that drive the development and growth of many types of cancer. This knowledge can improve our understanding of the biology of cancer and lead to new methods of diagnosing and treating the disease.
The PE-CGS Network's research sites include:
University of Southern California: USC Center for Optimization of Participant Engagement for Cancer Characterization (COPECC): Building a foundation for access to health care innovation for Hispanic/Latino cancer patients.
Yale University, The Jackson Laboratory, University of Colorado Anschutz Medical Campus, Brigham and Women's Hospital, and Beth Israel Deaconess Medical Center: OPTimIzing engageMent in discovery of molecular evolution of low grade glioma (OPTIMUM).
Washington University in St. Louis: Washington University Participant Engagement and Cancer Genomic Sequencing Center (WU-PE-CGS).
University of New Mexico, Mayo Clinic Comprehensive Cancer Center, The Translational Genomics Research Institute (TGen) / City of Hope National Medical Center, and The Black Hills Center for American Indian Health (BHCAIH): Engagement of American Indians of Southwestern Tribal Nations in Cancer Genome Sequencing.
The Broad Institute, Dana-Farber Cancer Institute, and Boston Children's Hospital: Count Me In: Partnering with patients to define the clinical and genomic landscape of rare aggressive sarcomas in children and adults.
The Ohio State University acts as the PE-CGS Coordinating Center.
PE-CGS is working to address knowledge gaps for rare cancers, highly lethal cancers, cancers with an early age of onset, cancers with high disparities in incidence/mortality, and cancers among underrepresented minorities.
Cancers currently being researched in the PE-CGS Network include:
Osteosarcoma
Leiomyosarcoma
Low Grade Glioma
Multiple Myeloma
Cholangiocarcinoma
Breast
Ovary
Prostate
Kidney
Colorectal
Liver & Intrahepatic Bile Duct
Gallbladder
Stomach
Pancreas